Feature Articles About Our Charity
Daily Mail online – The wedding of Steven Monks and Laura Summerhill
MEN online – The wedding of Angela Sykes and Lee Ashworth
MEN online – The wedding of Nick Slattery and Katheryn De Wet
11th March 2014 – Gift of a Wedding was featured in local newspaper "Community Matters" showcasing how we help terminally ill couples unite.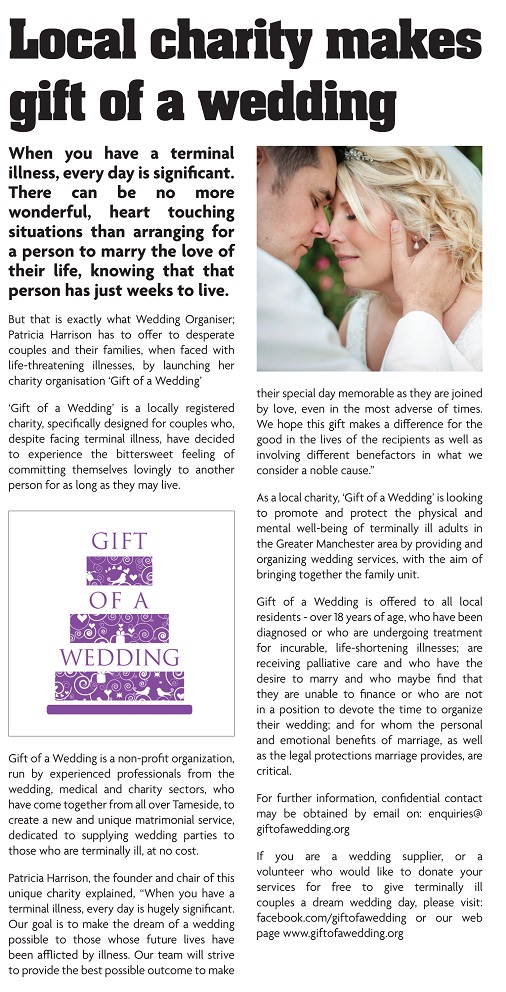 ---
April 22nd 2014 – Gift of a Wedding is delighted to announce that its first promotional poster has received national recognition for its design. The poster, which is also our main website image, has been highly commended by the Society of Wedding and Portrait Photographers.
The poster was photographed and designed by Gift of a Wedding trustee, Jude Gidney, a wedding and portrait photographer. It was her first photographic assignment for Gift of a Wedding. The iconic image, centred around a wedding dress, features central to all the charity's promotional work and will be widely distributed in poster form once Gift of a Wedding is formally launched.
Patricia Harrison, founder and chairman of Gift of a Wedding, said: "We are all very excited to receive this first bit of official recognition. It is testament to the hours of hard work Jude put into the design and execution of the poster. To get national recognition for the charity's work before we have even launched is just fantastic."
Most of the people featured on the poster are wedding professionals who gave their time for free and have pledged to offer their services to Gift of a Wedding's future brides and grooms. Jude, who shot the photographs at her studio in Saddleworth, Oldham, said: "It is always nice to receive recognition from your industry peers, but this award is particularly pleasing, as in addition to the photography, it also acknowledges the editing and design work that went into creating the poster. It was hard work, but a lot of fun to do."