You may or may not have noticed that we've had a recent drive to get the lovely ladies of Liverpool to donate their wedding dresses.
Plus some super gents donating their suits. Well, if you haven't we can proudly tell you that it's been mighty successful! We've received in excess of 50 items meaning we should be able to raise somewhere in the region of £15,000 for our charity. A lot of our thanks goes to Councillor Jake Morrison who's been instrumental in helping us achieve this. Here he is, modelling a few styles: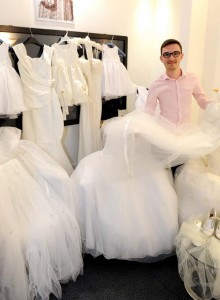 Enough of that gushing anyway! We want to tell you how else you can get involved with helping Gift of a Wedding without necessarily parting with something sentimental.
Wedding dress and suit donation
That being said, we are going to reiterate the importance of donating your dress to us! Sorry. With the success of the Liverpool dress donation drive, we would love to replicate it in the Manchester area. Firstly we will obviously be using our HQ as a donation point so if you're happy to drive over to Stalybridge, between 10am and 5pm Monday to Friday or 9.30am to 12.30pm on Saturdays.
We will also be setting up a number of different drop-off locations throughout Greater Manchester so keep your eye out on our social media sites for updates as to where these will be.
Fundraise
Do you have a desire to jump out of a plan, climb Mount Kilimanjaro or maybe do a triathlon? Okay, we don't expect it to be quite that strenuous! However, if you do have any activities or events planned, even if it's something as daft as waxing all your body hair or as inclusive as organising a bake-off at work, and are looking for a charity to support, we'd love it if you could consider us. We recently had Daniel Tucker and Ben Andrews raise money for us by running the Great Manchester Run. One in a wedding dress and the other under an hour! It's a great way to get fit for a good cause. If you need some inspiration, there is the Manchester 5k Colour Run in July which we have signed ourselves up for!
You can join our GOAW team here: https://www.facebook.com/events/673854066000837/

Volunteer
We have recently become extremely popular in the North West and want to provide as many people as possible with the wedding day of their dreams. Patricia is in desperate need of a PA who could volunteer two days a week to helping out with the number of emails and calls coming through. It would be best if you lived in the Tameside area, or close by, as you would need to work from the office. If this is something that might interest you, please get in touch by calling 08454740717.
Become an ambassador
Many companies want to show they are doing their bit for corporate responsibility. We could be your charity of choice! Our aim is to be the wedding industry's charity of choice for 2015. If you'd like to promote us in your business, shop or online we want to hear from you. We can support you in supporting us by providing you with ways to donate. It could be as simple as putting £1 towards us for every sale you make or having a collection box in your shop.
Become a Gift-Giver
If you work in the wedding or hospitality industry, you can elect to become a Gift-Giver by donating your goods or services to us for the weddings we put together. We don't expect you to donate your goods or service every time we have a wedding; it wouldn't make much financial sense! Once would be enough to help provide a beautiful wedding day and help someone in your community.
You will need to be a UK trader with the necessary licences or certificate in order to qualify and we will send you an application form to fill out so we can register you. To find out more, email us at enquiries@giftofawedding.org, or speak to one of our team on 0845 474 0717.
Donate, donate, donate
Last but not least, we know a lot of people are time-poor, so if all you can do is donate a fiver to us with a quick one minute online donation, then that's fabulous news for us. All support and donations are well received. Ultimately we want to help as many people with terminal or life-shortening illnesses as possible to have the wedding of their dreams. You can help us do that!
If you have any other ideas of how you can help us out, do get in touch! We're on Facebook, Twitter, email and phone.