It's been quite a busy and rather stressful week here at GOAW with things going wrong left, right and centre. Setting up a charity from scratch certainly has its challenges… things are never quite as straightforward as you think! But hey, everything's a learning curve isn't it?
However, we've fortunately acquired a new volunteer to take off some of the pressure. Yay! She has been doing some research and we're pretty astounded with some results so thought we'd share them with you.
We want you to take a look at these stories that have been in the local news over the past couple of years, specifically relating to couples who have married after one of them was recently diagnosed with a life-shortening or terminal illness:
Peter Heywood stepped forward and offered to put on a full wedding and reception at the Waterside Hotel in Didsbury
http://www.manchestereveningnews.co.uk/news/greater-manchester-news/bravest-bride-dream-wedding-for-tameside-860292
http://www.oldham-chronicle.co.uk/news-features/8/news-headlines/77198/cancer-wont-halt-my-dream-wedding
http://www.manchestereveningnews.co.uk/news/local-news/dying-bride-fulfilled-her-wedding-dream-852194
http://www.manchestereveningnews.co.uk/news/local-news/dying-dad-married-partner-weeks-874908
These stories are not extensive either; they are a small selection of publicized ones. Imagine if we'd had the charity when these weddings were initially being discussed? If people had known about the services we provide? Unfortunately there are many couples in this situation country-wide who could have benefited from Gift of a Wedding.
That's where we step in now! We want to help all future couples who wish to get married after being diagnosed with a terminal illness, and make their planning easier. We want to provide some joy and happiness… To fulfill a dream and create some memories.
Our intention is to eventually become a national charity and arrange free weddings for couples all over the UK. We can only do that with YOUR help! Help spread the word about us, let people know what we can do and want to achieve. You never know, there may be someone just around the corner. As evident from the articles, people are happy to donate goods or services for people in need. We can do that.
Ultimately we want to provide a beautiful day for those who may not have otherwise have had the option.
So please, get out there and shout about us!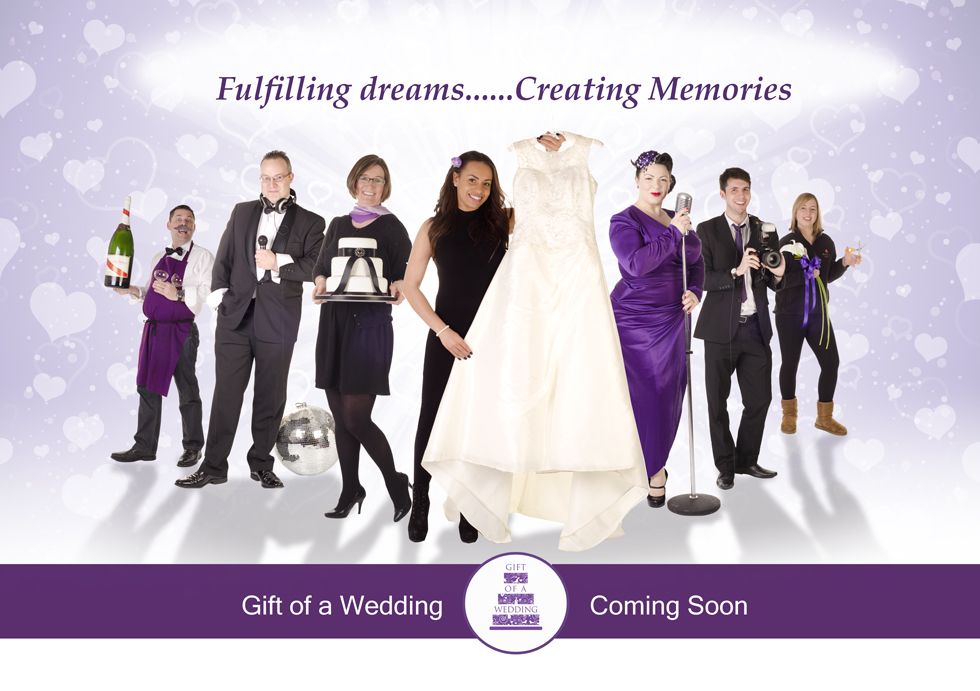 From all at Gift of a Wedding x
p.s. If the above stories piqued your interest and you've got some spare time on your hands, we also came across these ones which are from other areas in the UK:
http://www.theguardian.com/uk/2005/dec/07/gayrights.world
http://www.kirkintilloch-herald.co.uk/news/local-headlines/special-wedding-day-for-couple-as-brave-groom-battles-illness-1-2764885
http://www.dailymail.co.uk/news/article-1366135/Dying-woman-fairytale-wedding-guests-dress-Alice-Wonderland-characters.html
http://www.coventrytelegraph.net/news/coventry-news/couple-married-within-ten-days-4331390
http://www.northantstelegraph.co.uk/news/top-stories/your-kindness-gives-pair-dream-wedding-1-747671
http://www.chroniclelive.co.uk/news/local-news/dream-wedding-terminally-ill-whickham-1371585
http://www.telegraph.co.uk/health/healthnews/9175259/Cancer-bride-32-dies-90-minutes-before-wedding.html
http://chesham.buckinghamshireadvertiser.co.uk/2012/01/hospice-arranges-wedding-for-t.html
http://www.burytimes.co.uk/news/10242587.Offers_flood_in_to_make_wedding_wish_come_true_for_mum_dying_of_cancer/
http://www.mirror.co.uk/news/uk-news/my-hubby-died-the-day-after-we-wed-328389